Gerald M.Weinberg, James Bach, Naomi Karten, and numerous other successful software consultants present powerful ideas on how software engineers and managers can amplify their professional effectiveness--as individuals, as members of teams, and as members of organizations. The Collected Essays address diverse topics in personal empowerment, interpersonal interaction, mastering projects, and changing the organization.
Image: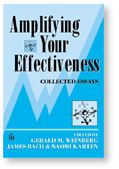 Member Reviews:
Review By: Laura Bireley
05/06/2003"…we're more likely to enhance effectiveness if we start by looking within and asking ourselves what we might do better or differently" – Naomi Karten
This book is about empowerment, growth, and change. Change is inevitable, growth is necessary, and empowerment is what makes everything work. There are four divisions in this book which loosely translate into You, Your Team, Your Project, and Your Company. Each of the sections contains a series of short- to medium-length essays on a variety of software-related topics. In each section, the focus is on how an individual has an effect on the outcome in a given situation and, depending on the emphasis of the section, who is affected.
This format may sound dry, but the stories range from the compelling (as in A Brief History of the Accessibility of Computers by Blind People and Quality Begins at Home) to the thought provoking (with Solving Other People's Problems, Perils of Parallel Projects, and Modeling Organization Change) and the entertaining (including Ten Project Haiku, Maneuvers to Disable a Team, and Good Practice Hunting).
Any anthology will vary in style and content, but I was impressed with the overall quality of the authors and the cohesiveness of the organization of the essays. The introduction was relevant and gave the reader a good idea of what you should get from reading this book and why the book was conceived. Most areas of software development were covered including project management, Q/A, testing, hiring, software engineering, business analysis, and ERP, to name a few.
The common theme was that although what other people do has an effect on you, the only thing you can change is yourself, your knowledge, your situation, or your attitude. The point of the collection of essays seemed to be that when we take responsibility for our actions and attitudes in a given situation, we can have a positive influence on our team, our project, and our company. We can function better and be more effective.
I would recommend this book for anyone involved in software development in a struggling organization. To eliminate the blame game, everyone in the organization should have their own copy.
Review By: Johanna Rothman
05/06/2003[ed. note: We asked one of the authors, Johanna Rothman, to write a brief synopsis and to tell us how this unique collection of essays came into being. She agreed and the result follows.]
Why AYE? The Genesis of Amplifying Your Effectiveness
© 2000 Johanna Rothman
"Consultants are people who borrow your watch and tell you what time it is, and then walk off with the watch."
--Robert Townsend
We're consultants. We don't want to be the watch-borrowing kind of consultant. We want a deeper, richer, more effective experience with our clients. Unfortunately, at many conferences, we sometimes feel as if we're not able to give people who come to our presentations as much value as we'd prefer. We decided to conduct a conference that would allow us to reach people in a different way than traditional conferences.
Of course, this wouldn't be a "normal" conference; we aren't particularly "normal" thinkers. We chose to do things differently: make all the sessions interactive and experiential, have team-led sessions, give each session up to three hours in duration.
We also decided we wouldn't have typical conference proceedings. The papers and presentations at a conference are useful. However, participants find they can gain more insight and learn when they make connections before and after--not just during--the conference.
We wanted a way to start those connections with our attendees, so we decided to publish a book as our proceedings. Since the book has something from each of us, we could use the book to connect with attendees, no matter what year they decided to come to the conference.
When someone buys the book, they get valuable consulting advice, not a watch-borrower. The book has four parts: Empowering the Individual, Improving Interpersonal Interactions, Mastering Projects, and Changing the Organization.
One article in the individual empowerment section is James Bach's "The Role of Testing." James critically examines his evolving ideas about the role of testing in the organization, from finding problems to risk assessment to helping the entire project see what's happening to the product in the context of running the business.
In the interpersonal section, Bob King addresses "Life as a Software Architect," describing what it means to be a software architect, and how to judge his ongoing success on a project. His Visibility Ratio is the time spent with key people vs. the time needed with these people. The Conflict Metric is a measurement of the external emotions about the project--the project staff's feelings. Bob has noticed that each project has a time of significant discussion and feelings. The Anxiety Metric is the amount of internal stress Bob feels while working on a project. Bob describes the warning signs when these measurements get out of balance.
In the Mastering Projects section, Eileen Strider describes her steps for "Recognizing a Runaway Project," and some of the choices you can make. Sometimes we get caught up in projects, and can't see that they are runaways. Eileen has nine symptoms for you to check against your project, to see if it is a runaway. Sometimes we can see runaway projects, but we may not feel as if we have choices. Eileen has five suggested choices for what to do about these projects, including both the choices to stay and work things out, and the choice to run away yourself!
In the change section, Steve Smith describes the Satir Change Model, a model of personal change. Change happens one person at a time, so if you know what a person is going through, you can choose how to continue your change efforts.
The other contributors to the book are Marie Benesh, Rick Brenner, Esther Derby, Kevin Fjelsted, Don Gray, Naomi Karten, Pat Medvick, Sharon Marsh Roberts, Ken Roberts, Johanna Rothman, Gerald M. Weinberg, and Becky Winant. James Bach, Naomi Karten, and Gerald M. Weinberg are our editors.