Driven by the need for global excellence and customer value, agility and innovation have become imperative for business. However, most business process engineering and information system approaches address only operational efficiency and economics. This unique book closes this gap. It shows you how innovation can be systematized with normalized patterns of information. You learn how business processes and information systems can be tightly aligned and how they can automatically adapt to change by re-configuring shared patterns of knowledge. The book combines world class experience from industry with the best in academic experience and leading edge research. It helps you design business processes and systems that are both agile and adaptable, coordinate integration of information across supply chains and extended enterprises, reduce time-to-market, and improve computer aided systems engineering and computer aided process engineering tools.

Moreover, the book offers expert guidance on facilitating standards, prototyping for continuous improvement, designing enterprise information systems software, and achieving process maturity to rapidly absorb and utilize innovative technology for competitive advantage. The basic premise of the book is that meanings are patterns of information. This groundbreaking volume lays the foundation of a new computing paradigm in which computers manipulate meaning, not blind symbols. This book is the nexus between service oriented architecture, business process management, knowledge management and business process automation.
Image: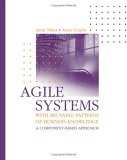 Member Reviews:
Review By: Jeff Patton
05/21/2007A complex topic made enjoyable. Amit Mitra and Amar Gupta's Agile Systems with Reusable Patterns of Business Knowledge is the more tactical companion book to Creating Agile Business Systems with Reusable Knowledge.
I picked up the hefty hardback expecting it to have something to do with agile software development, but it didn't—well, not really. I wasn't necessarily disappointed. The title refers to the creation of responsive and rapidly adaptive systems of software for supporting a responsive, rapidly adapting business.
At the root of the authors' premise is the idea that contained in software is knowledge—our understanding of the business world and its component objects (information about people, products, business rules, processes, and strategy). As that knowledge grows and is recombined to form new products, alternative business rules, and more effective processes to support new business strategy, our software naturally will have to change to support that. If our business is going to be truly agile, then our software also must be. To support that capability, our software must abstract and commonly represent and leverage knowledge. Our software must support the change and rearrangement of that knowledge and the cascading impact on all the systems that leverage that knowledge.
That's not a simple thing. If there's a hope of succeeding at any level, this book would seem to be an important part of that. The book is divided into two sections. The first gives a foundational vocabulary and concepts for understanding knowledge and some specific tactical advice on how to use that vocabulary. This vocabulary serves as a sort of pattern language for the construction of a "knowledge machine" that may be leveraged by the agile business. Building software that leverages a "knowledge machine" is likely a huge paradigm shift for the architects and engineers who design software and the business people who specify it. The second section of the book deals with managing the huge amount of change an organization will need to undergo to successfully convert to an agile, knowledge-driven organization.
This book is tough read. It's dealing squarely with a number of tough concepts that are new to me and, I suspect, new to many. The discussion in the book often seems far from the tactical concerns of day-to-day software design and development. The picture it paints of a future world of agile knowledge-based systems seems like science fiction. If I hadn't seen tangible examples of this type of thinking used in medical and financial applications today, I might have set the book aside to read in twenty years when I best could take advantage of it.
But I have seen examples of this kind of thinking leveraged, and the book helped give me better language to talk about theses types of solutions. The book is quick to remind its reader that "practice does not require perfection" and seems to understand that the futuristic organizations described in the book will take time to emerge.
The figures in the book often seem overly dense with information, pushing the limits of my bifocals. They're also cluttered with a bit more chartjunk (http://en.wikipedia.org/wiki/Chartjunk ) than I'd prefer. But patient study of the figures often is rewarded with a stronger understanding of the material.
The concepts in this book are tough, but interesting. The writing is entertaining. I'm not in a position to making sweeping changes to my organization's IT infrastructure, and you may not be either, but you may find some useful language and concepts to put into practice in your day to day work.