See how to mine the experience of your software development team continually throughout the life of the project. The tools and recipes in this book will help you uncover and solve hidden (and not-so-hidden) problems with your technology, your methodology, and those difficult "people" issues on your team.
Project retrospectives help teams examine what went right and what went wrong on a project. But traditionally, retrospectives (also known as "post-mortems") are only help at the end of the project--too late to help. You need agile retrospectives that are iterative and incremental. You need to accurately find and fix problems to help the team today.
Now Esther and Diana show you the tools, tricks and tips you need to fix the problems you face on a software development project on an on-going basis. You'll see how to architect retrospectives in general, how to design them specifically for your team and organization, how to run them effectively, how to make the needed changes and how to scale these techniques up. You'll learn how to deal with problems, and implement solutions effectively throughout the project--not just at the end.
With regular tune-ups, your team will hum like a precise, world-class orchestra.
Image: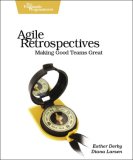 Member Reviews:
Review By: Janet D. Kennedy
04/20/2007Agile Retrospectives: Making Good Teams Great brings the skills that experienced facilitators use to the realm of the technical team leader. The forward by Ken Schwaber, well-known for his work with Scrum methodology, lends credibility to the topic and should be sufficient to hold the attention of most skeptical readers. The book is well organized and informative. Following the instructions, even an inexperienced team leader can have a successful retrospective.
The techniques are described in detail, and the scenarios provide realistic examples of how things may proceed and how to deal with them. Software developers often are reticent about describing how they feel. By providing several different ways to gather information on how people feel about the work being reviewed, there is a good chance that one of the techniques will surface these important issues that influence and affect people's daily activities.
The design of the book, including the "recipes" for techniques, makes it very useful as a quick reference. The writing style of the book is informal, as if you are being mentored by an experienced facilitator. Rather than simply saying what to do and how to do it, this book gives examples of why it is important and when to use it. The authors include simple tips such as making sure that everyone says something within the first few minutes, even if it is only a word or two, since they then will be engaged in the process.
The authors clearly have dealt with almost every situation and have done an excellent job of translating that experience into a readable reference. This book will be one that I refer to frequently, as the techniques can be applied to many situations besides agile retrospectives.