Agile Development and Business Goals describes a unique, state-of-the-art methodology that aligns the critical but often "silo-ed" software development process with core company goals. Eschewing long-winded "agile philosophy" in favor of a formally prioritized process, this book serves as a distilled learning guide for managing technical resources in a manner that directly boosts your bottom line. Build the teams, define the roles, acquire the tools, and deliver your world-class software on time and on budget.
Explains how to employ automation in your development process to improve your company's profitability.
Introduces a compensation structure that incents your technical talent to deliver measurable results on a predictable basis.
Provides real-world solutions - questions to ask when hiring or which build server software to consider, for example—instead of theoretical discussions.
Image: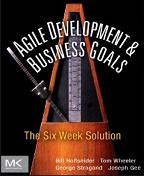 Member Reviews:
Review By: Annie Nguyen
05/04/2011"Agile Development and Business Goals" is a book for managers—primarily software development managers—to read and put into action. However, other members of an agile development team could also benefit from reading this book if they are interested in the how and why of making decisions. This book provides an understanding of why the process is set up the way it is.
I am currently a member of an agile development team, and this is not necessarily the first book I would recommend to a coworker. However, it would be a good book to help an iteration manager set up new processes or review existing processes.
The authors' message is easy to understand. The book covers a huge range of topics such as compensation, pair programming, and automated testing. Although it is nice to have all of the topics covered in one book, it is impossible to go into all the details necessary for each topic.
The most interesting chapter is the one devoted to the risks of using the agile approach. In many books, authors push so hard for a particular methodology that risks are often ignored. Here, the authors openly address the issues with the agile development process. They offer readers key areas to be wary of and how to anticipate and address the issues.
With cost and demand on the rise, every company is looking for a more efficient, more effective way of producing software without sacrificing quality. This book is incredibly relevant to the current industry as standards of development and quality are rising. Everyone is looking for a solution. The thought of changing an entire process that affects many people over the course of six weeks may seem impossible. A realistic approach while reading this book would be to adapt the solutions in a way that fits into the culture of the company. There is no silver bullet, but this book presents great ideas that can be incorporated into different teams or scenarios.
Review By: Melissa M. Tondi
05/04/2011"Agile Development & Business Goals" offers the next step to those who have implemented the agile methodology and find that they are ready for a more structured solution around their delivery. It offers both practical and proven results that blend the best of agile with the support of process.
The book is a quick read but contains so much good information that I found myself re-reading chapters at least once to ensure I retained what was presented. The compensation sections alone are full of valuable information that I could sensibly implement within my organization. The case studies and real-life quotes are sensible and flow well within the chapters without taking away from the overall message.
The emphasis on the value of quality is a refreshing change from books that emphasize the development portions of the traditional software development lifecycle. The distinction between external and internal software quality also provides a unique view on why we develop software in the first place. If we are unable to measure quality, then why bother developing a product?
For those of you who are looking to implement automation in your agile projects, chapter eight will provide a great resource on tools and examples of how to use those tools to support your success. I found the section "QA Doesn't Need Every Build" intriguing. It bucks a fundamental attitude that QA professionals possess, and the suggestions on how to integrate QA into the development process will jump start lively (if not heated) discussions within teams.
Although the book stresses the six-week solution, there are valuable lessons for those who are not at a managerial level that allows for changing (or at least bringing to the table) compensation and delivery changes. If you have the ability to drive a team using this solution, try it. If not, you will have at least a few takeaways that you can implement tomorrow. I look forward to reading more on this solution and hope to see this become an alternative, yet supporting, method within our agile culture.