This book teaches test managers what they need to know to achieve advanced skills in test estimation, test planning, test monitoring, and test control. Readers will learn how to define the overall testing goals and strategies for the systems being tested.
This hands-on, exercise-rich book provides experience with planning, scheduling, and tracking these tasks. You'll be able to describe and organize the necessary activities as well as learn to select, acquire, and assign adequate resources for testing tasks. Learn how to form, organize, and lead testing teams Master the organizing of communication among the members of the testing teams, and between the testing teams and all the other stakeholders. Additionally, you'll learn how to justify decisions and provide adequate reporting information where applicable.
Subtitle:
Guide to the ISTQB Advanced Certification as an Advanced Test Manager
Image: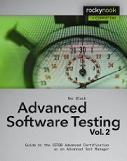 Member Reviews:
Review By: Joel R. Singh
06/17/2010This book is an excellent volume for test managers and those who are looking to expand upon their quality assurance (QA) experience, particularly in the area of test management. Author Rex Black assumes that the reader has a basic to intermediate understanding of QA practices and uses this to delve deeper into QA. Even though the book is geared towards those interested in taking the ISTQB examination, I found it immensely helpful in devising training materials for my team. This book promises to have a long shelf life as it couples the author's twenty-five-plus years of software experience with standardized definitions from the ISTQB. The supporting data to the ideas presented are sound and often elicited a chuckle as they resonated with similar circumstances from my own limited experience.
I am currently in the process of building out my functional automation service offering and was immediately able to use the information from this book to help outline my strategy. I will definitely be using the information from the risk-based testing section to evolve my test approach as well.
I love the writing style as well. Mr. Black's usage of real life examples and his experiences coupled with memorable quotes and a liberal sprinkling of ISTQB definitions made this an easy read as well as a great reference book.
I think this book is geared more towards experts, yet novices and intermediate QA professionals will also find the information contained between the covers useful and may even spur on the reader to look for the earlier titles that deal with the foundations of testing. After reading this book, I immediately wanted to read more of Mr. Black's books. I would highly recommend this book to my coworkers and colleagues.
Mr. Black explicitly states that the book was written for those interested in taking the ISTQB advanced examination, but he's structured the content in such a manner that a reader can glean a wealth of information on advanced testing techniques and concepts—without even reading the final chapter that deals primarily with test-taking techniques. I am not interested in taking the exam at this point, so I am not able to gauge if this book is suitable for that task.
The sections that were most useful for me and which I was able to utilize immediately were risk-based testing, test tool concepts and categories, and test team dynamics. In reality, I can and probably will be using all the areas covered in this volume.