This book is written for the test analyst who wants to achieve advanced skills in test analysis, design, and execution. With a hands-on, exercise-rich approach, this book teaches you how to define and carry out the tasks required to put a test strategy into action. Learn how to analyze the system, taking into account the user's quality expectations. Additionally, learn how to evaluate system requirements as part of formal and informal reviews, using an understanding of the business domain to determine requirement validity. You will be able to analyze, design, implement, and execute tests, using risk considerations to determine the appropriate effort and priority for tests. You will learn how to report on testing progress and provide necessary evidence to support your evaluations of system quality.
Subtitle:
Guide to the ISTQB Advanced Certification as an Advanced Test Analyst
Image: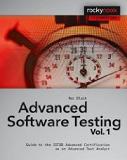 Member Reviews:
Review By: Vivek Vaishampayan
06/17/2010This book is essentially a preparation guide for the ISTQB Advanced Certification exam. Similar certifications are offered in United States by ASQ and by QAI, but this book helps readers aspiring to appear before the ISTQB prepare for its Advanced Test Analyst exam. Candidates for other certifications may not find this book essential reading material. After having passed the ISTQB certification exam myself, I am not quite sure if students will return to this book. Thus, the shelf life of the book may be limited.
The author, Rex Black, is the elected president of ASTQB and the ISTQB. Obviously, Rex focuses on skills and techniques related to test analysis, test design, test execution, and test results evaluation based on the Advanced Test Analyst exam's syllabus. He has done an excellent job putting together the required study material that should help one pass the certification exam on his first attempt. Overall, the author presents well-organized material on software testing and clear, concise thoughts on software testing concepts. I highly recommend this book to any person involved in software testing.
The book consists of eleven chapters addressing basic aspects of software testing, testing processes, test management, test techniques, reviews, defect management, process improvement, test tools, and automation. Rex also covers risk-based testing concepts in an excellent manner. He includes practical, real-world examples for key concepts and quotes from the ISTQB glossary with explanations of those terms in plain English. Each chapter ends with multiple samples exam questions which definitely help readers prepare for the ISTQB certification examination.
There are certain areas, like reviews and incident management, where this book can be changed. Rex describes probably what he has experienced, but there are many organizations that would like to adopt both best practices approach as well as the "Open Source" approach. The author could have provided more insight into blending those two to derive maximum benefit in the software testing profession. Overall Advanced Software Testing Vol. 1 is an excellent text book for the ISTQB exam and a good reference book for others.