For an increasing number of critical projects, traditional project management models simply are not appropriate. In many cases, complete requirements and objectives cannot be specified up front, and significant changes cannot be avoided. What's needed is an entirely new framework for project management: one that combines agile methods with the profession's most enduring best practices. In this book, Robert K. Wysocki provides that framework–the Adaptive Project Framework (APF)–and shows how to apply it in any domain.
Wysocki, one of the world's leading project management consultants, has spent decades helping large organizations succeed with complex projects. Drawing on everything he's learned, he explains why a fundamentally new framework is needed and introduces all five phases of that framework. He covers artifacts, processes, and deliverables, and shows how to utilize each phase most effectively in your environment. Through four detailed case studies, you'll discover how APF can help you adapt to unexpected events, encouraging creative responses based on open partnerships between clients and project teams.
Coverage includes:
Bringing greater flexibility and speed to any project, regardless of its goals or context
Moving forward successfully with projects that have vague requirements
Discovering what clients really want, not just what they say they want
Managing ongoing scope changes throughout a project
Customizing APF to your own environment
Integrating APF with existing agile software development methods
Using APF to overcome the obstacles to success
Preparing for the future of project management
This book is written for every project participant–project and program managers, software and product developers, process designers, and business analysts–who needs to deliver results in a world that won't stand still.
Subtitle:
Managing Complexity in the Face of Uncertainty
Image: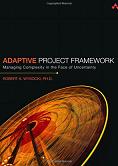 Member Reviews:
Review By: Richard J. Foster
10/08/2010Author Dr. Robert K. Wysocki has been involved in project management for over forty years. His previous books include the Project Management Institute's recommended "Effective Project Management, 5th edition." As a result I was very excited to learn what Dr. Wysocki had to say about the relatively immature, but increasingly popular, adaptive project management techniques.
Dr. Wysocki suggests that successful project management is much like cooking. The most successful cooks do not blindly follow recipes constructed by others. Instead they adapt existing ones, or create their own. The majority of the book assumes a certain familiarity with the basic ingredients of project management, so to speak. As a result, I would not recommend this book to anyone new to project management.
I also found some parts of the book to be a little repetitive. For example, the forced ranking mechanism used to prioritize tasks is described in detail in chapter 2, and again with similar detail in chapter 4. Presumably this is to allow more casual readers to simply consult the section of the book applicable to their current needs, but I found it frustrating when trying to digest the entire book. Readers unfamiliar with the terminology may have difficulty getting quick answers from the book due to the author's frequent use of acronyms (e.g., POS, COS, WBS, etc.) with only rare reminders of their meaning.
Despite my concerns about the presentation, I found the actual content very valuable. The section on conducting post-version reviews was especially relevant. Like others, I have asked myself "the project is over, what difference will a review make now?" But Dr. Wysocki makes an excellent point that failure to carry out this review (and similar reviews, for example, after each "cycle") may result in a situation where a project is inappropriately allowed to continue consuming valuable resources which could be better used elsewhere.
Because the adaptive project framework is still maturing, it seems likely that parts of the book may rapidly become outdated. This is not a bad thing, nor is it to be feared. As the author observes, "Project management is organized common sense," and what may be valid in one context (or time period) could be completely inappropriate in another. With its emphasis on providing value to the business and verifying the outcome, I believe that the major concepts will remain valid even if the specific tools and techniques do not.