SQE Training, a TechWell Company, and its team of industry experts help organizations worldwide improve their skills, practices, and knowledge in software development and testing. For more than twenty-five years, we have helped thousands of organizations reach their goals of producing high-value and high-quality software by providing the industry's best resources for software testing, agile development, project management, security, requirements training needs.
As part of TechWell's convergence of expert resources for software professionals, SQE Training offers instructor-led, in-person and virtual classes, plus self-paced courses—all developed and delivered by industry leaders with years of specialized experience. SQE Training offers certification in the areas of software tester certification through the ISTQB® (International Software Testing Qualifications Board), agile certifications through the International Consortium for Agile (ICAgile), and ScrumMaster and Product Owner Certification through the SCRUM Alliance®. SQE Training is also a Registered Education Provider with the Project Management Institute®.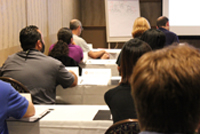 Public Training
Our public classroom training is offered in more than fifty cities each year and allows the learner to interact one-on-one with instructors who have an average of fifteen to thirty years of experience. Attendees also benefit from the opportunity to network and interact with others while learning. Our public classroom environment allows the learner a distraction-free learning environment with access to immediate answers to questions and an opportunity to focus on training content.
On-Site Training
On-Site training is becoming more and more popular today as corporations look for ways to train their personnel—without the expense of travel. Companies who are looking to train six or more employees often find on-site training the most attractive option. There are many benefits to this type of training that help not only the corporation but also the employee who is being trained. SQE Training has more than sixty on-site courses available to train your company's employees.
Live Virtual Training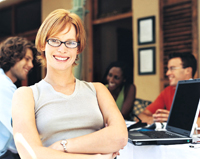 Learn anywhere! Experience the benefits of classroom instruction at your location. Live, instructor-led classes are now available right from your computer! SQE Training uses Cisco's WebEx® technology to provide you with all the benefits and personal contact of classroom instruction—from your desktop. This convenient format allows for less disruption by limiting the time spent away from work and home. You get the same valuable content and instructor interaction as you would in the classroom but with the convenience and cost effectiveness of being online.
eLearning
Experience SQE Training's dynamic, asynchronous courses developed by eLearning professionals with the advice of respected testing experts. Delivered in bite-sized lessons with clearly stated learning objectives and regular progress checks, these courses offer a unique learning approach for skills seekers. eLearning is the perfect solution for software professionals with travel and time constraints, offering a full ninety-day access from date of purchase.
Looking to advance your career through specialized certification?
SQE Training offers several options for gaining or maintaining your certification in the software development field: