Summary:
Sponsored Content from VisionMobile
VisionMobile invites all software developers to take the Developer Economics survey, a global study reaching more than 40,000 developers every year. Not your ordinary survey, the Developer Economics survey offers developers the chance to share their experiences, test their developing skills, increase their development knowledge, and win fabulous prizes.
The Developer Economics survey is the largest independent survey on a global scale, reaching more than 40,000 developers every year. The survey is designed by developers, so it is 100% relevant to all involved in software development. The 13th edition of the Developer Economics survey is now live, and developers who have already participated say that they learned a lot about tools, technologies, and platforms that they didn't know about!
"I have 15 years of experience as a dev, and even with that, I didn't know all the platforms—and especially game engines—that your survey contains. Great job!" says @BoboTheRobot.
So, how much do you really know about developer tools? You can find out by taking the survey.
If you are not yet convinced, here are another 5 reasons why you will really enjoy it:
It is not yet another boring survey. It takes place in the Developer Universe—yes, that's in outer space!
The survey includes a sci-fi theme designed to offer an extra fun factor. Your responses will gradually form a profile, showing you which sci-fi character best represents you. When you finish, you'll get to read your full profile in your Developer Scorecard. There are 10 sci-fi characters, so you could be a robot trooper, an alien commander, a bounty hunter, and more. Your profile will also include graphs showing how some of your responses compare to other developers' answers in your country, so you'll get a sense of how you compare to other devs.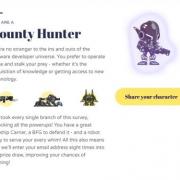 There's an exclusive prize for Techwell readers
Techwell readers who complete this survey and submit their email will be entered into a prize drawing for a $100 Amazon gift card!
And some more prizes
Participants can also win one of the many prizes available, including an iPhone 7, a Pixel phone 32GB, an Oculus Rift, a Surface Pro 3, a 12-month Xbox Live Gold Membership, and many, many more.
Access to a free report with insights to help you make better career decisions
As always, VisionMobile will publish the key findings from the survey in the form of a free report, come August. If you contribute, you'll be among the first to get a copy! These findings will include interesting insights to help you make the right decisions for your professional development. For example, the previous survey showed that region and software sector are two of the most significant factors to determine developer salaries. The median web developer in North America earns $73,600 USD per year, while a Western European web developer earns half of that—$35,400 USD.
Last but not least ...
This survey is funny!
The survey is full of jokes—developer jokes. You know, the ones everybody else usually doesn't get.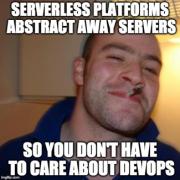 The survey will be live until June 25th, so hurry up and take the survey !